The latest Counter-Strike: Global Offensive patch includes a new collaboration with Halo, bringing together two of the biggest first-person shooting franchises in all of gaming.
A cross-promotion with Halo developer 343 Industries has brought some unique updates to Operation Shattered Web's second week of action. CSGO now features a Halo sticker capsule and a new music kit inspired by the Master Chief Collection.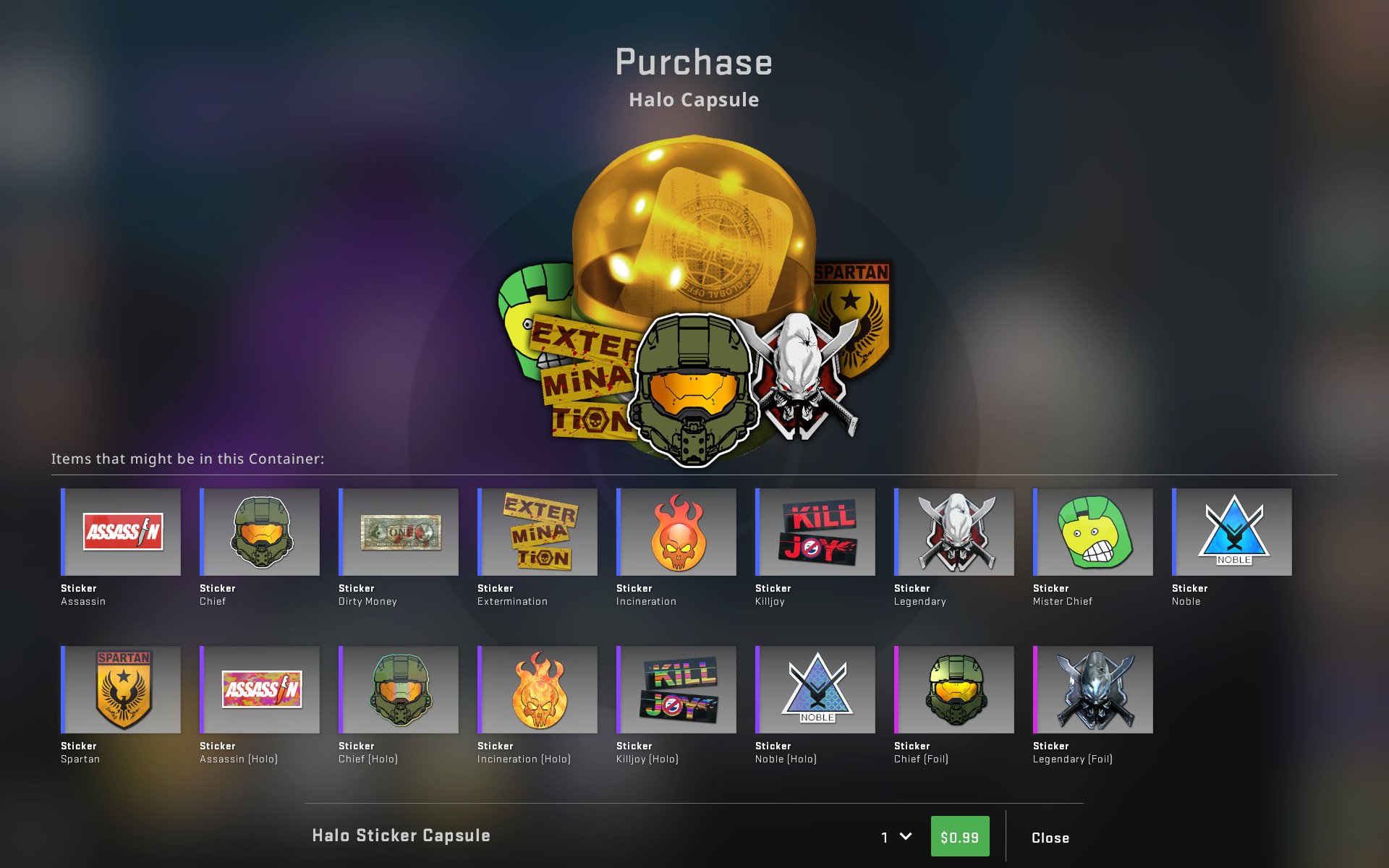 CSGO fans can purchase the sticker capsule in the Panorama user inferface's main menu. It contains ten paper rarities, five holo rarities, and two foil rarities. The two foil stickers depict the iconic Master Chief spartan helmet and the Legendary Elite skull and swords symbol.
"Today we're excited to ship the Halo Sticker Capsule in CSGO!" the game's official Twitter said. "As an added bonus, users who purchase and play the Master Chief Collection on Steam will receive an exclusive Halo Music Kit in CSGO."
The music kit was teased on Twitter by Valve. The short clip features opening round music, complete with an intense electric guitar. CSGO stated on Twitter that the music kit will only be accessible to gamers who purchase the Master Chief Collection and play it for more than five hours on Steam. That means the music kit won't even be available until December 3, when the Master Chief Collection comes out.
Master Chief Collection release gets promoted in CSGO update
The Master Chief Collection package contains Halo: Combat Evolved, Halo 2, Halo 3, Halo 3: ODST, and Halo 4. Halo: Reach will be DLC.
The full notes for today's patch can be viewed here. Aside from the Halo exclusives, it appears the only other major addition to CSGO is a new collection of missions, Secret Agent Man.
"Grab your MP5-SD and quietly make your mark on Nuke. Earn more stars in a variety of game modes to advance your Shattered Web Operation Coin and reap the rewards!" the notes read.
Cache also received some small updates. This included improvements to visibility and readability and clipping fixes. Studio saw even more changes, including a reduction to the size of bombsite B and adjusted cover on A and B bombsites. The A site also sees "increaesd lighting" and both A and B had props removed from their entrances to "improve visuals and gameplay."