God of War Ragnarok is arguably the best game of 2022 with a 94 Metascore. The hype around the potential final installment in the series is real, and weeks after its release, players are still trying to get the God of War Ragnarok Collectors' Edition.
God of War Ragnarok is the final game in the series where Kratos and Atreus face the boss to end all bosses, Odin. The reviews of the game are highly positive and some critics are calling it one of the best games ever made. The game is currently nominated in the Game Awards in several categories, including Game of the Year where Elden Ring is also nominated.
It is the important conclusion of an epic journey. Sony prepared some special editions to celebrate not only Kratos' story, but also loyal players.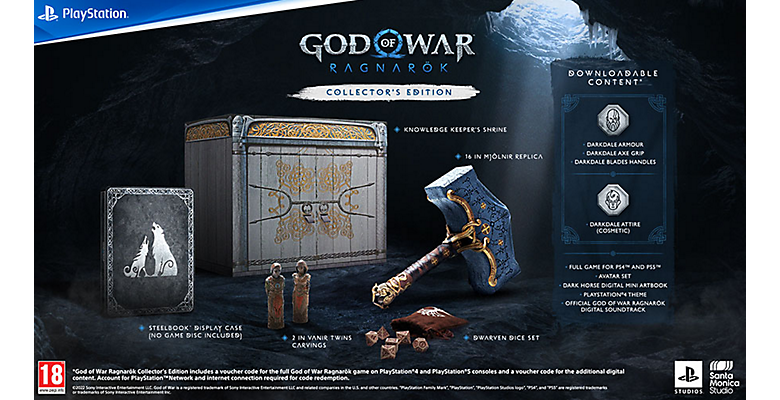 The God of War Ragnarok Collector's Edition is a limited edition that was available for pre-order ahead of the release of the game. As expected, it sold out almost immediately, but that doesn't mean it is not available for purchase online.
What is in God of War Ragnarok Collector's Edition?
Originally, the God of War Ragnarok Collector's Edition retailed for $199. This version was valid for both PlayStation 4 and PlayStation 5. The digital items included in the Collector's Edition are as follows.
Darkdale Armor
Darkdale Attire (Cosmetic)
Darkdale Axe Grip
Darkdale Blades Handles
Dark Horse digital art book
Official digital soundtrack
PSN avatar set for PS4/PS5
PlayStation 4 theme
These digital items were also included in the Jotnar Edition. The interesting part of the Collector's Edition is the physical items. Here's what is included in the $199 bundle.
16 in Mjolnir Hammer
Dwarven Dice Set
Two 2 in Vanir Twins Carvings
Steelbook Display Case
Knowledge Keeper's Shrine
While the official sale is closed, players can find it on websites like Ebay. Some users are selling the items individually, like just the Mjolnir replica for $140. The entire set can be found for prices between $250 and $360.