YouTube streamer Ludwig Ahgren broke his own viewership record during his most recent chessboxing event.
On December 11, Ludwig hosted his highly anticipated Mogul Chessboxing Championship at the Galen Center in Los Angeles, California. Content creators like DisguisedToast, Myth, BoxBox, and more jumped into the ring in the first chessboxing event hosted by a streamer.
In each match, the contenders played rounds of chess and fought in a round of boxing. The contenders could win by a knockout in the boxing part or checkmate in the chess portion. This unique combination gathered a lot of interest, and the audience definitely showed up for it.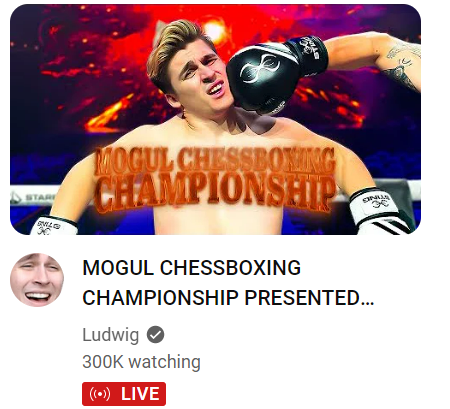 Ludwig made his intention clear ahead of the event.
"The goal is to get more viewers than reacting to Dream's face reveal LOL," Ludwig wrote on Twitter.
The reaction to Dream's face reveal saw Ludwig break his previous viewership record with over 146,000 current viewers. The Mogul Chessboxing Championship not only broke the record but doubled the numbers. At some point, the event had over 300,000 current viewers.
"The Chessboxing event was the coolest sh-t I've ever done. I hope it was worth your time. Thanks for watching," Ludwig wrote after the event was done.
Content creators take chessboxing seriously
One of the biggest surprises of the day was how seriously the content creators took the boxing portion of the event. The fighters were ready to go all in when it came to boxing and didn't hold back. Some of the matches went to the sixth round, meaning that the content creators had to fight at least two rounds of boxing.
Here are the results of the Mogul Chessboxing Championship:
2Saint defeats Spud, technical knockout in the second round.
Fiction defeats KJH, melee in the fifth round.
BoxBox defeats Stanz, technical knockout in the third round.
Abroad in Japan defeats OvertFlow, chess in the sixth round.
Hugs defeats Toph, technical knockOut in the second round.
Aman defeats Lawrence, technical knockout in the second round.
Dina defeats Andrea Botez, checkmate in the sixth round.
Myth defeats Cherdleys, chess in the sixth round.
DisguisedToast defeats Pointcrow, checkmate in the sixth round.