The LCS has revealed the rosters for the "Classic Showmatch" featuring Cloud9 and Team SoloMid.
Ten players will return to the stage for the ultimate LCS rivalry. On Cloud9's side is the roster that played for the organization between 2013 and 2015. The players returning are: 
Top lane: An "BalIs" Van Le
Jungle: William "Meteos" Hartman
Mid lane: Hai "Hai" Du Lam
ADC: Zachary "Sneaky" Scuderi
Support: Daerek "LemonNation" Hart
This roster competed in the LCS and also attended several international events, including IEM Seasons 8 and 9, All-Star 2014, and the World Championship in both 2014 and 2015. This is one of the best remember iterations of Cloud9, a team that progress as far as the top eight at Worlds.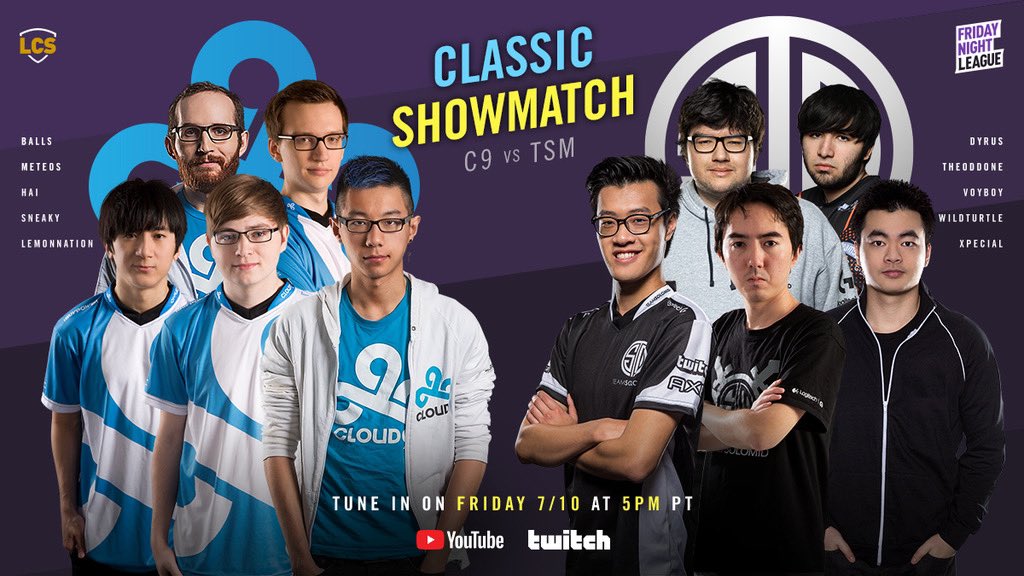 On TSM's side, the players taking the Summoner's Rift are:
Top lane: Marcus "Dyrus" Hill
Jungle: Brian "TheOddOne" Wyllie
Mid lane: Joedat "Voyboy" Esfahani
ADC: Jason "WildTurtle" Tran
Support: Alex "Xpecial" Chu
With the exception of Voyboy, all of these players were part of TSM between 2013 and 2014.
The showmatch is taking place on Friday, July 10 at 7 PM CST. This will serve as a prelude to the match of the week between C9 and TSM on Saturday.
TSM meets C9 in the 2020 LCS Summer Split
Week five marks the end of the first half of the summer split, and so far, C9 remains undefeated. With eight clean victories to their name, C9 is in sole possession of first place and it seems that no other LCS team can challenge it. TSM will serve as the final challenger from the teams fighting for second place.
TSM is having a solid season themselves, with only two defeats thus far. The overall performance of the team has improved since its rough start against Team Liquid in week one. TSM looks more coordinated and cohesive, but will that be enough to take down C9?
In the spring, TSM was the only team to take a victory from C9, breaking its perfect record. Now in the summer, TSM is looking to hand C9 its first loss even earlier in the season.
C9 and TSM play on Saturday at 3 PM CST.