Europe's greatest stage for upcoming talent, the European Masters, is back for the summer split and is set to run from August 16 through September 19.
The tournament begins with the play-in group stage from August 16 to 17, which will see 16 teams whittled down to eight. These eight will enter the play-in knockout stage on August 19, which will determine the four teams to play in the main event.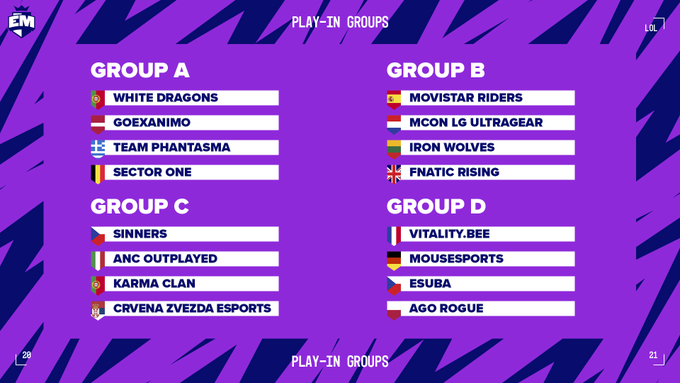 From August 30 to September 7, the main group stage will see the play-in survivors join the higher-seeded teams that automatically qualified after stronger national performances. The strongest teams of the groups will move on to the knockout stage, which will be decided entirely through best-of-five series past years using best-of-threes for early knockout series. Finally, the grand final will take place on September 19 to decide the strongest ERL team.
2021 EU Masters Spring champions Karmine Corp will once again bring the "blue wall" to the main stage, but will enter the summer event seeded behind 2021 LFL Summer champions Misfits Premier. Surprisingly, KCorp's opponents in the spring final BT Excel failed to qualify after being knocked out early in the NLC playoffs.
Others looking to make deep runs at the tournament include Germany's BIG, whose recent 3-0 victory over PENTA 1860 earned the team its second Prime League title in a row. Germany's third seed, mouseports, is also likely to push for the title.
Aside from France and Germany, Spain's SuperLiga will also see top teams Vodafone Giants, UCAM, and Movistar Riders hoping to make a push to bring the EUM title back to the region for the first time since MAD Lions' Summer 2018 title.
Seeding still lacking for Play-In groups
Despite bringing best-of-fives into the entire knockout stage, fans have still continued to voice their concerns over the seeding of the Play-In groups. Currently randomized, the groups have often been misbalanced and have once again led to a clear "group of death."
Group D sees three of the four biggest leagues (LFL, Prime League, Utraliga & SuperLiga) having their third seeds fighting it out in a single group, while Spain's Movistar Riders is the only third seed from one of these leagues found in the remaining groups.
I am following up with the team. As far as I understand it is still randomized at the moment. I agree that is not ideal though and will see if we can create a proper seeding mechanism moving forward – which takes time to create.

— Maximilian Peter Schmidt (@RiotMAXtheX) August 12, 2021
Riot's LEC commissioner Maximilian Peter Schmidt has answered the criticism, explaining Riot "will see if we can create a proper seeding mechanism moving forward" but that any alteration "takes time to create."